As you all know, I just love Alia Janine – brilliant, brash, beautiful, and completely uncommon, this lady lives life on her own terms… and she doesn't mince words about a gd thing. It's refreshing.
(pictured: Alia!!)
In addition to all that, Alia is also really kind. She did SO MUCH work online and out in the community to oppose Measure B, and she's currently participating in a contest to help Hurricane Sandy survivors. To wit:
Many of you have read on my blog or have seen in press releases today [December 6] that I want to donate $26,000 to Hurricane Sandy survivors by winning Orgasm.com's 'Girl of the Month' and 'Girl of the Year' contests… The winner of the monthly contest will receive $1,000 and the winner of the year contest will receive $25,000, totaling in $26,000 in cash and other prizes… I am extremely excited about it and am thrilled so many people are getting involved, but I did not explain how the contest works… So, I will answer the questions I've been asked, clear some things up, and explain everything else. [text originally here and here]
Alia went on to explain that both the "Girl of the Year" and the monthly contests are won by collecting votes/points from friends and fans. And, if people tweet that they've participated, the contestant they voted for will receive an additional point. For a contestant to win "Girl of the Year," they have to collect both a minimum of 120,000 votes/points and have the most votes over the entire year (2013).
She continues:
Although I do believe that this is totally possible, after the excitement and my serotonin leaves came down, I realized that it is kind of unreasonable. Mainly because it is unfair to all the other girls involved. There are tons of hotties in the contest, and they all have fans that want them to win, and they should be able to! Secondly, I cannot possibly expect all of my friends and fans to vote for me every day for an entire year. This does not mean I'm not going to try though, not by any means. I know a lot of people will vote for me as often as they can… Even though it is for a good cause, the amount of resentment I'm already getting from certain groups of people is enough to make anyone give up as well. No good deed goes unpunished I guess. Luckily for me, I have good moral fiber and a backbone, which too many people in this industry lack.

My main goal is to win and donate all $26,000, but I must be realistic. Once a few months of scores come in, I will average out how many 'Girl of the Month' contests I have to win to be able to win the 'Girl of the Year' contest, and I will separate the months for promotion (so I don't drive people crazy). I need a minimum of 120,000 points to win 'Girl of the Year,' and I do not need to win every monthly contest to get that. Even if I only win 1 monthly contest or as many as I can win to get Girl of the Year, every cash prize I win from this contest will be donated, and that is all that really matters. [emphasis added, originally here]
So awesome – I love the tenacity, I love the effort, I love the bigger picture!!
Help Alia help Hurricane Sandy survivors!! She's definitely doing her part, and all it takes is a little clicking and tweeting to do yours.
Click "Vote Now" below to show your support for Alia. (the option to tweet about it pops up right after :)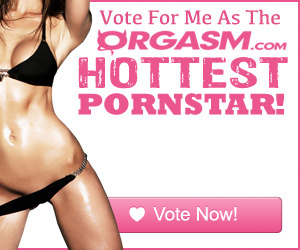 More info about the contest at Orgasm.com – if you really want to help Alia (and so many people struggling with the aftermath of a horrible national disaster), you can grab the embed code for your own site in the top right corner here.
Alia's blog and Alia's twitter at @Alia_Janine.
Have a listen to Alia's podcast interview with PVV right –> here <–
(pictured: sexy mamma)
* * *
Like what you see? Follow PVV on Facebook and Twitter!!
Visit Dr. Chauntelle at ChauntelleTibbals.com and on Twitter at @DrChauntelle!!
You may quote anything herein with the following attribution: "Reprinted from Porn Valley Vantage/PVVOnline, copyright © Chauntelle Anne Tibbals, PhD (www.PVVOnline.com)."